A propos de l'auteur SebAngelus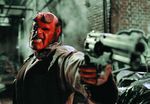 Sébastien Morgan

Quelques mots sur moi
Comme Superman, mais le "super" en moins.
-
"When I get sad, I stop being sad and be awesome instead. True story." - Barney Stinson
-
"One time my cousin Walter got this cat stuck up his ass. True story. He bought it at our local mall, so the whole fiasco wound up on the news. It was embarrasing for my relatives and all, but next week, he did it again. Different cat, same results, complete with another trip to the emergency room. So, I run into him a ...week later in the mall and he's buying another cat. And I says to him, "Jesus, Walt! What are you doing? You know you're just gonna get this cat stuck up your ass too. Why don't you knock it off?" And he said to me, "Brodie, how the hell else am I supposed to get the gerbil out?" My cousin was a weird guy." MALLRATS de Kevin Smith
Mes centres d'intérêt
La glande... et un peu le cinéma aussi. Sans oublier les lavabos.
Mes films préférés
Les Tarantino, Scorsese, Paul Thomas Anderson (à ne pas confondre avec Paul W. Anderson qui, lui, ne fait que des merdes), Sergio Leone, Sam Raimi, Christopher Nolan, David Fincher, John McTiernan, Judd Apatow, John Hughes, Kevin Smith et bien d'autres réalisateurs que j'admire.
Mes musiques préférées
Dionysos, Miossec, Cali, Damien Rice, Ray LaMontagne, Mud Flow, Girls in Hawaii, Saez, Alain Bashung, Da Silva, Alain Souchon, Bon Iver, dEUS, Joe Purdy, Johnny Cash, Neil Young, Bob Dylan, The Do, Sufjan Stevens, The Rolling Stones, -M-, Stereophonics, The Pixies, etc etc etc...
Mes livres préférés
The Shield - The Wire - Six Feet Under - Dexter - Oz - Deadwood - Lost - House, MD - Breaking Bad - Chuck - The Sopranos - Battlestar Glactica - Rescue Me - True Blood - Sons of Anarchy - Angel - Buffy - Friends/Joey - My name is Earl - How I Met Your Mother - Californication - Entourage - South Park - The Simpsons - The IT Crowd - Spaced - Cowboy Bebop - Prison Break (saison 1) - Weeds (saison 1 à 3) - Nip/Tuck (saison 1 à 3 avec la 4 si je fais un gros effort) --- et bien d'autres.